Many people in Noida sector 34 have gum bleeding issues. They look for the best dental clinic in Noida sector 34. Are you also suffering from gum bleeding? Gum bleeding is a pretty regular occurrence in our society. Most of us have dealt with this problem at some point in our lives. Some people may have experienced far worse.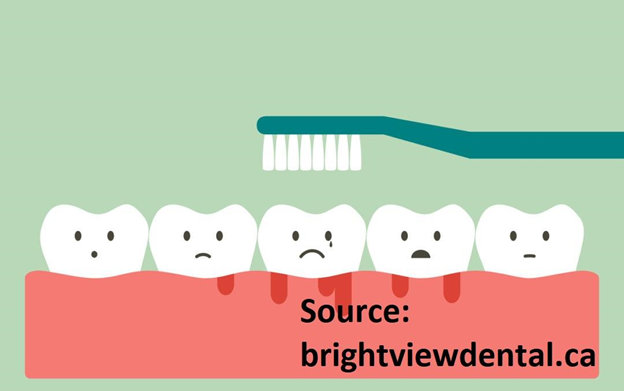 Gum bleeding is not a common occurrence. You may believe that everyone's gums bleed when they floss or brush sometimes; nevertheless, your gums should not bleed. They only bleed when they are sick. This indicates that your gums are bleeding due to an infection or inflammation. You can sometimes fix the problem at home, as we'll show you in this post.
So, gum disease is the first thing that comes to mind. Periodontal disease is another name for it. It is the most common cause of gum bleeding. Some of you may now be suffering from systemic diseases such as leukemia. We've observed a lot of leukemia cases where the gums bleed a lot faster. Certain types of cancer may exacerbate gum bleeding. However, in ninety-nine percent of instances, or whatever percentage of the time, the primary cause is a gum infection.
Most importantly, you will not feel, see, or even know if you have a gum infection. However, it causes long-term inflammation, bleeding, and illness. It can lead to bone loss and, in the worst-case scenario, tooth loss if not treated properly. The harm does not end there; it will also jeopardize your overall health. So, there should be an adequate treatment of bleeding gums.
We'll speak a bit about bleeding gums and what you may do at home to help treat them in this blog. When brushing and flossing, a lot of people experience bleeding gums.
So, what exactly is the reason for this?
What you'll see most of the time is that the accumulation of additional plaque in your teeth is causing swelling around the gum tissues. Here, you must do a great job of eliminating the plaque built up on your teeth. Particularly the things trapped between your teeth and gums. Brushing and flossing are the first things you should perform at home as part of your home care. Brushing and flossing are essential, and performing these two things will help you get rid of the irritation that causes your gums to bleed. So the first place you may start is with good brushing and flossing routines.
Salt and baking soda, for example, can now be used at home. If you mix that up, you may brush your teeth and gums with a small amount of the combination directly on a toothbrush. It can help you get rid of the swelling around your gums. It may also help to prevent bleeding in the long run.
The use of hydrogen peroxide is another option. You can utilize hydrogen peroxide to rinse your mouth. It improves the amount of oxygen in your mouth while also reducing edema. As a result, it is yet another alternative that you can pursue at home.
Finally, you should see a dentist as soon as possible if you continue to have bleeding gums, swelling, or irritation around your teeth and gums. You can treat your bleeding gums at home. However, this is not always achievable.
So, how do we deal with it now?
At Centre for Smiles, we take a sample from under your gum and put it on a slide to see what organisms are present. We look for parasites and bacteria that may be contributing to or causing the bleeding gums. After that, we use an efficient therapy to get rid of the germs. When we kill those organisms, the gums stop bleeding, and the irritation subsides. Your gums will no longer bleed. Your mouth will get healthier, and your body will become more fit.
Gum disease can lead to a wide range of systemic and extensive disorders. These are referred to as the "other silent killer." Our goal is to stop all types of bleeding as quickly as possible. Nothing beats it if you can do it with your in-home care. But, if it's not possible to handle it at home, you can visit us, and provide you a professional treatment. We'll get rid of any infections, and you'll never have bleeding gums again. So, keep your mouth and grin in good shape. Take good care of your gums, and do not squander any time.
People in Noida who searched for the best dentist in Noida found our dentist efficient and working for them. As we mentioned before, we optimally take care of our patients.