Several people in Noida sector 34 want to get invisible teeth straightening. They visit their best dental clinic in Noida sector 34. Do you want to get invisible teeth straightening as well? Don't be concerned! If you believe we're talking about braces, you're incorrect! Many people are hesitant to wear traditional metal-wired braces because they are noticeable and can ruin our smiles.
Invisible aligners are what we're talking about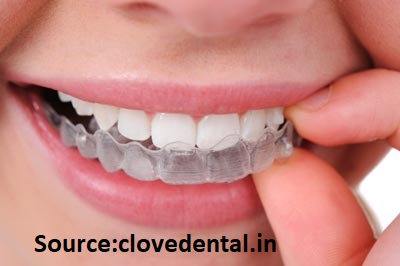 Invisible aligners: What are they, and how do they work?
Invisible aligners, unlike traditional braces, are completely undetectable, so you can wear them without feeling self-conscious. In addition, unlike braces, you can take them out. Every few weeks, you'll obtain a new aligner to assist you in shifting your teeth into the proper position.
Invisible aligners are clear plastic or acrylic aligners that help straighten and move your teeth into the appropriate position. Visit the best dentist in Noida sector 34 to receive invisible teeth aligners that will help you achieve a perfect tooth and a perfect picture.
Are invisible aligners appropriate for everyone?
Invisible tooth aligners are better suited to adults rather than youngsters. They're also better for patients in Noida sector 34 who have modest tooth crowding and spacing difficulties. It is not ideal for severe spacing issues.
How long do invisible tooth aligners take to produce results?
The amount of time it takes for invisible tooth aligners to show effects is determined by how much movement is required and how crooked your teeth are. The more twisted and shifted your teeth are, the longer it will take the invisible aligners to straighten and move them to the correct position. However, this treatment can take anywhere from 10 to 24 months.
In what ways are invisible aligners superior to braces?
As previously said, unlike braces, invisible aligners are not visible, so you can smile and chat without feeling self-conscious. In addition, unlike braces, aligners can be removed as needed, allowing us to eat, brush our teeth, and so on. The use of invisible aligners improves overall oral health.
Is it essential to have a perfect tooth for an ideal smile and picture?
Without a doubt, having perfectly straight teeth improves our smile and allows us to take better photographs of ourselves. Apart from that, straightening your teeth is necessary if you want to keep them healthy.
Have you ever been bothered by a toothache? Isn't it agonizing and infuriating?
You must have felt like a hammer was slamming into your teeth in such situations, right? After all, the most unpleasant and bothersome thing has toothache. A toothache keeps us from doing our everyday tasks and causes us a lot of problems. The more crooked and gapped your teeth are, the more likely you are to suffer a toothache.
To avoid toothaches and keep your teeth healthy, you must have a straight tooth. Invisible dental aligners straighten teeth and help you maintain a healthy set of teeth.
Conclusion
We now understand the advantages of invisible dental aligners and how they may help you get a straight and flawless smile. We also appreciate how invisible aligners function and for who they are most suited. We also learned why teeth straightening is so essential and why invisible teeth aligners are superior to braces. We also got an idea of how much an invisible aligner would cost.
So, what do you have to lose? Don't you want your teeth to be straight, flawless, and healthy? Don't you wish to get rid of toothaches and the agony that comes with them?
If you answered yes, go to the best dentist in Noida Sector 34 right now and receive an invisible teeth aligner so you can say cheese with confidence! So get ready to speak something long, large, and perfect!