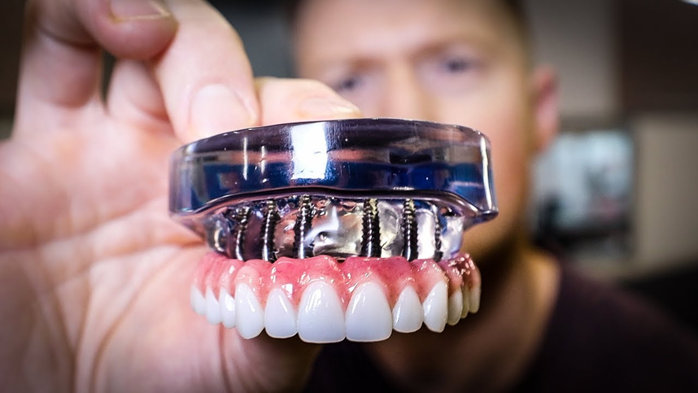 For people all across Noida who have a damaged tooth or missing teeth, a dental implant in Noida is an excellent solution for them. The treatment will provide you a long-term solution for your missing tooth.
Healthy gum and bone are essential for dental implant surgery. If you don't have adequate bone to support a teeth implant or the implant is very close to your sinuses, you could even need bone grafting or a sinus lift.
Dental Implant in Noida is prosthetic posts that are cylindrical. It is the right alternative for the replacement of missing teeth. Our dental implantologist at the best dentist in Noida carefully inserts the implant into the gums or jawbone during this procedure. The crown is held in place by these implants, which functions as a prosthetic root. The whole treatment requires two medical sessions for complete results. In contrast to other artificial dental surgical treatments, a dental implant is both safer and more reliable.
So why do you require dental implant treatment?
If you have vacant space in your teeth and can't or don't want to have other short-term treatments like dentures, bridges, or crowns, dental implant in Noida is the right choice for you. It is critical to repair a missing tooth, as the effects of removing/losing a tooth but doing nothing can quickly escalate into a far more complex issue. Dental implant surgery has many cosmetic advantages, but they are also essential for your mouth's overall effectiveness. Dental implants help maintain a healthy bite by holding each tooth in its correct location while still ensuring a healthy jawbone and minimizing bone loss. When a tooth is lost or extracted without being replaced, the jawbone will start affecting negatively.
Dental implants can also seem to be required from a cosmetic standpoint. You can be self-conscious about the appearance and feel of your smiling face. Here a dental implant will benefit. It's important to have self-esteem and self-confidence and eat quickly, smile without discomfort, worry, or shying away.
Now, let us see the different types of dental implant in Noida.
Depending on the process's scale and the components used, there are three main types of dental implants.
Endosteal Implants
The most popular form of dental implant is endosteal implants. These are suitable for many people, but the post must connect to a strong, safe jawbone. They're designed like screws and serve as placeholders. Our doctor inserts them into your jaw, where the artificial teeth will be placed. It takes some time for the operation to recover after it is completed. After the wound has healed, we will fix the crown to the post to match the existing teeth.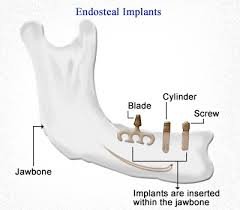 Subperiosteal Implants
Subperiosteal implants are yet another form of a dental implant. This is the most popular substitute for endosteal implants. Subperiosteal implants are not installed into the jawbone; instead, they sit at the bone's top, under your gums. A pillar is connected to a metal frame that is hidden under the gum. To keep the edge in place, the gum wraps around it. The posts that emerge from the gums are used to protect the artificial teeth.
This technique is mostly used if your jawbone is insufficient for implant placement or if you do not want to conduct extensive dental surgery to restore the bone to the region.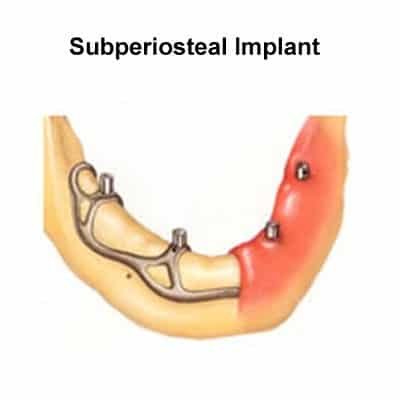 Zygomatic Implants
Zygomatic implants are one of the most uncommon types of tooth implants. It is the most challenging treatment and can only be performed if there is insufficient jawbone for the Endosteal implant.
Rather than the jawbone, the implant is positioned in your cheekbone.
Now that you've learned about the three forms of implants, you can be interested in learning about implant techniques.
The dental implant technique is divided into several steps:
At first, we apply the general anesthesia medicine to the affected region of your mouth.
Then the broken tooth will be extracted from your mouth.
If a bone graft is needed for the implant, we will prepare the jawbone.
The placing of a dental implant in your jaw bone or gum tissue depends on your needs.
Then we will apply a healing cap to the newly inserted post.
Allowing the implant to adapt with your gums for two to six months.
After that, we will place a dental crown on the post.
In the end, a corrective touch-up is applied.
This is the standard dental implant treatment protocol, but a few steps differ depending on the type of dental implant used.
How much does dental implant cost in Noida?

On average, the cost of dental implant in Noida at our Centre for Smile dental clinic is around Rs 30,000 to Rs. 50,000. But the cost may vary as per your requirements.
Let us see the advantages of a dental implant.
Dental implant treatments are beneficial in the following ways-
It provides you a natural look
The treatment is highly successful
The result is long-lasting and reliable
It improves your ability to chew after the treatment
You will get a beautiful smile
The changes will be highly visible in the case to before and after dental implant treatment.
Now, why choose Centre for Smile for your dental implant treatment?
Dr. Suchi Singh, our dentist, is up to date on the latest dental technologies and treatments. She has experience in this area. To provide superior diagnostics to our patients, our dental clinic in Noida is fitted with specialized equipment and high-tech dental systems. Our dentists can better diagnose dental issues with the aid of our cutting-edge digital imaging system. Each of our patients receives a care plan that is exclusive to them. By offering high-quality, cost-effective dental care, we aim to make your experience a pleasant one. We believe in keeping things open and honest, so we'll go through what you can expect from your care.